Our new project, which we are currently working on intensively, is PIKE Paradigm. This model is designed by Philip Kolb and Benjamin Rodax. The model is designed for the GPS Sport category, which is very well developed in Europe. Also it is great for slope alpine flying or flying for fun anywhere because it has an electric motor. The model will have a wingspan of 4726 mm, three-part wings. Diameter for spinner will be 38 mm. PIKE Paradigm will be the first model in this size category which will be made with full Rohacell core technology. Thanks to this technology, Pike Paradigm can be produced much stronger compared to sandwich technology at the same RTF weight. On the beginning it will be made with crostail and later also as V tail version.

The expected date for commercial sales is the end of 2021 - the beginning of 2022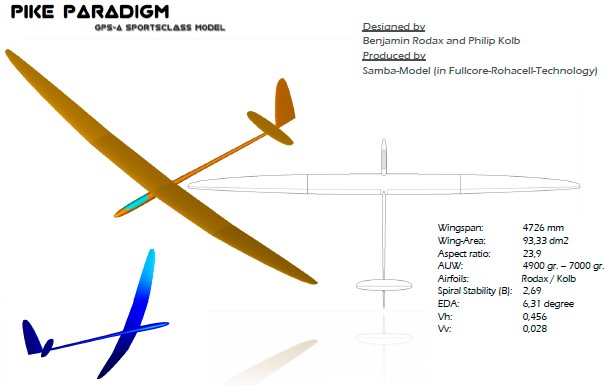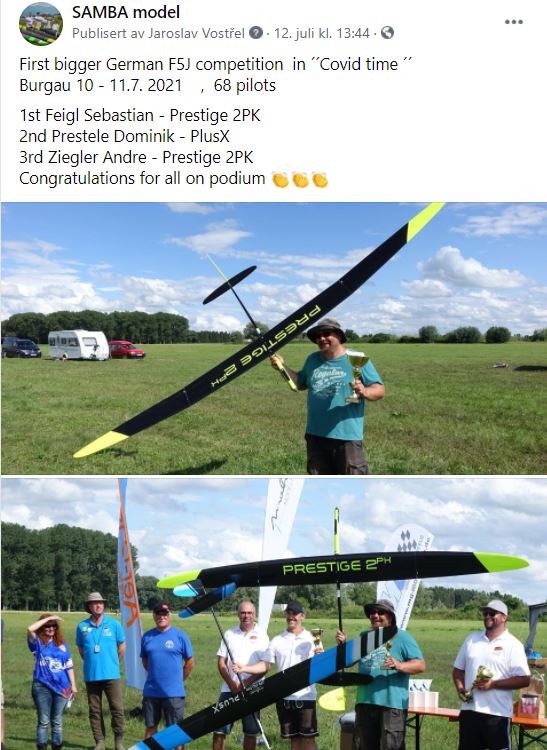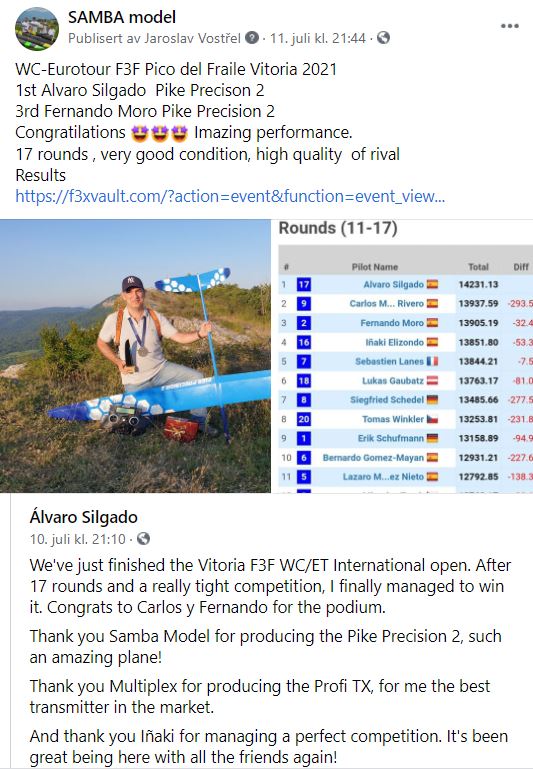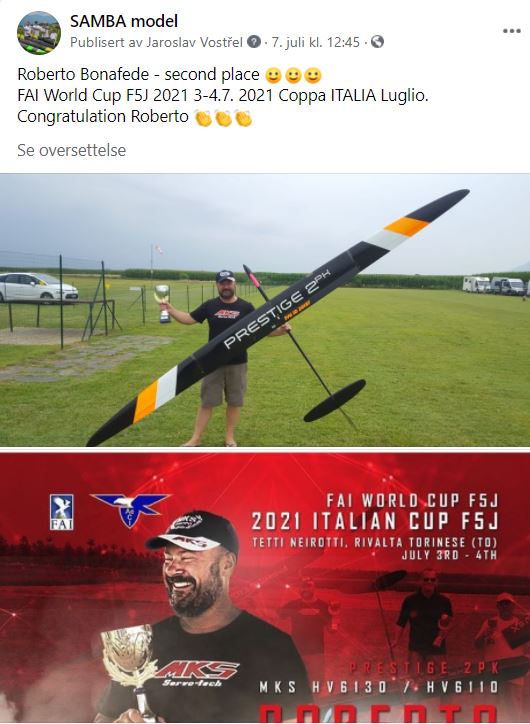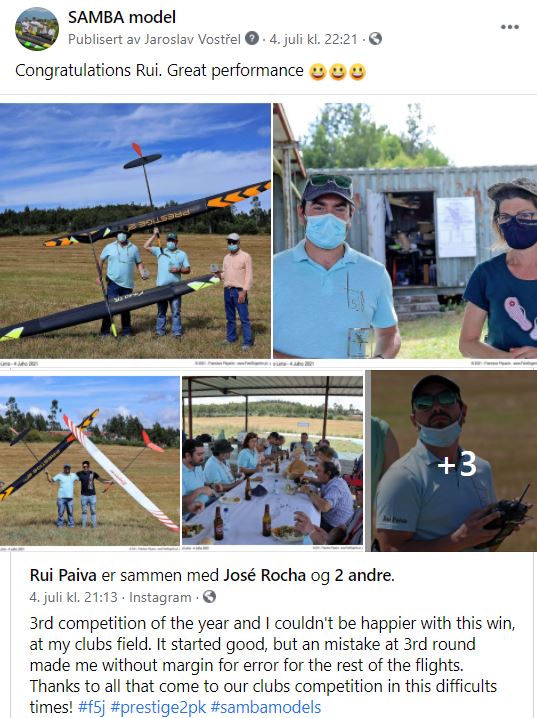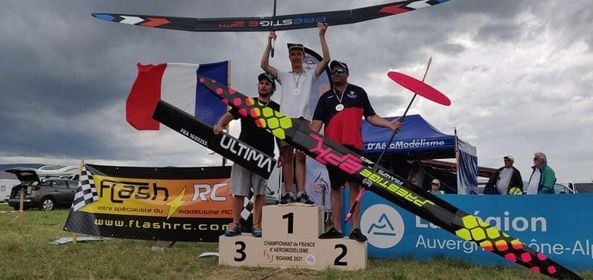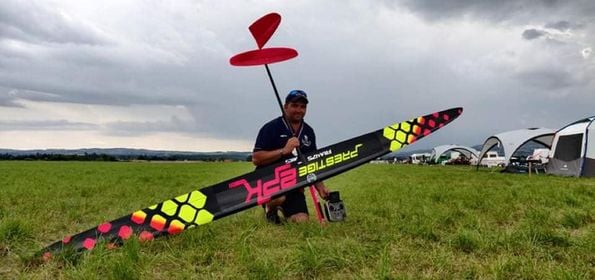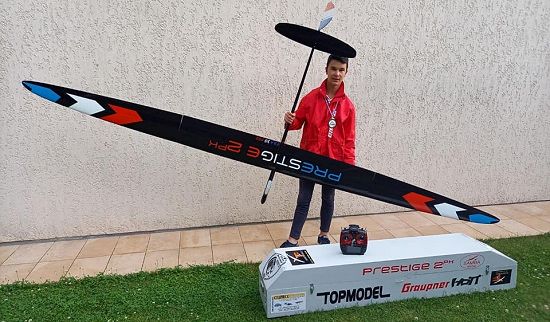 French Championship F5J 2021 . 66 pilots
1st Nicolas Chansard jun. - Prestige 2PK
2nd Fred Filliol - Prestige 2PK
3rd Jérémy André - Ultima
Fantastic performance boys
Congratulations for all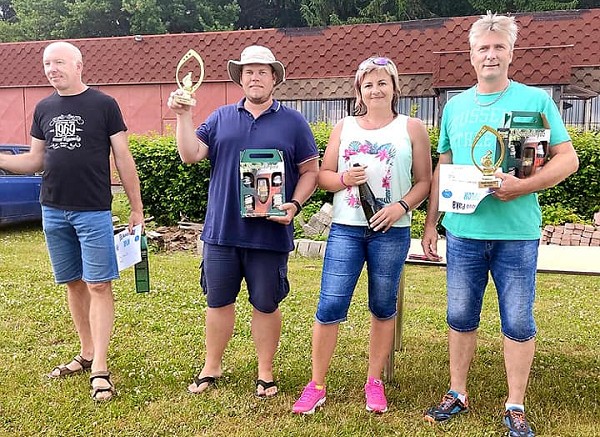 Nová Paka Czech 26.6. 2021. 31competitors.
The best results for Prestige 2 PK pilots!
1st Martin Rajšner - Prestige 2 PK
2nd Vítězslav Štěrba - Prestige 2 PK
3rd Jiří Duchaň - Prestige 2 PK
4th Tomáš Bruner - Prestige 2 PK
5th Jiří Rajšner - Prestige 2 PK
6th Milan Chalupník - Prestige 2 PK
Congratulations and we hope that you enjoyed flying
Congratulations also to nice comeback Jane Štěrbová - Vostřelová 14th place - Prestige 2 PK
Results (`no finals) page 1 , page 2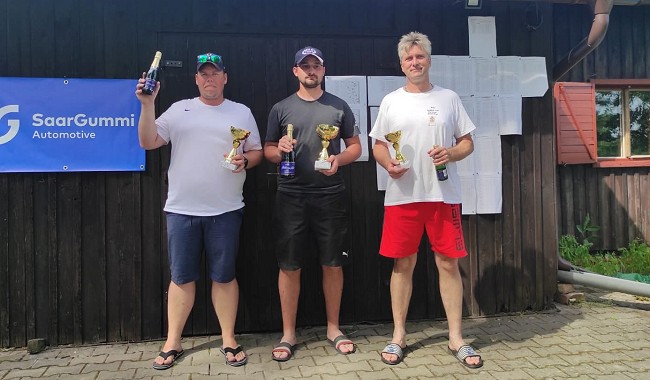 First and biggest F5J competition in Czech republic this year so far.
Náchod 19 - 20.6. 2021. Difficult conditions as usual in Náchod.
64 competitors from 5 countries.
1st Radek Malčík - Prestige 2PK
2nd Martin Rajšner - Prestige 2PK
3rd Vítězslav Štěrba - Prestige 2PK
4th Petr Malčík - Prestige 2PK
Congratulation for all
results: finals - prelim 1, 2, 3
Nice photos by Tomáš Winkler HERE

Radovan Plch flies a new slope with teh Pike Precision2


Assembly video of Vtail fuse (long video):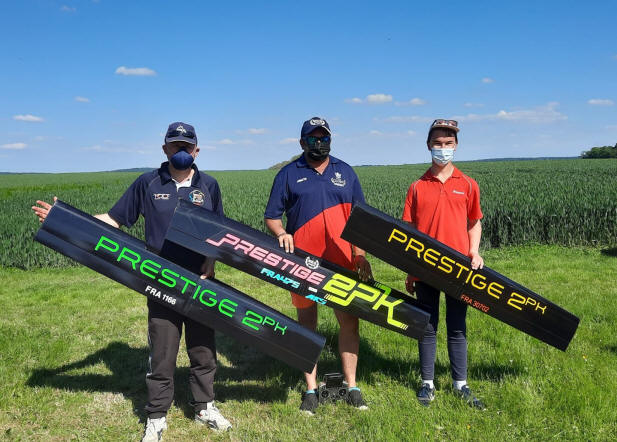 F5J France - 30 mai 2021 - Etrepagny F5J
1st competition after lockdown
1st Fred Filliol 2nd Ivan Moquereau 3rd Nicolas Chansard.
Congratulations to all 40 pilots!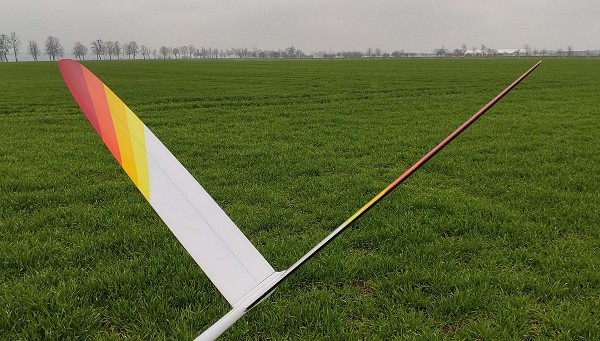 V-tail Prestige 2PK - realized - Pictures HERE
Prestige Vtail initial setup (Jo Grini)
CG 109mm tested with 1280g to 1700g.
Elevator speed down 1mm
Elevator thermal 0mm
Elevator speed down 0,5mm
Elevator up 11mm / down 15mm (25 with brake)
Brake half down 7mm, full down 9mm
Rudder up 11mm down 10mm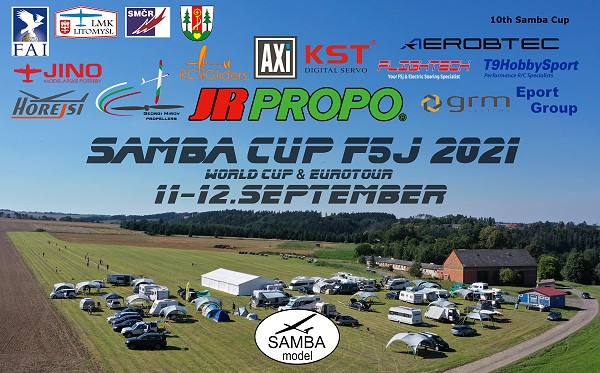 Samba Cup F5J 2021 has new date 11-12.september 2021. Situation with Covid is not good in Czech Republic now. We hope that the situation will be much more optimistic in the autumn
Stand by for more info and invitation - Read last year report HERE


Julian Benz having fun with his Pike Precision 2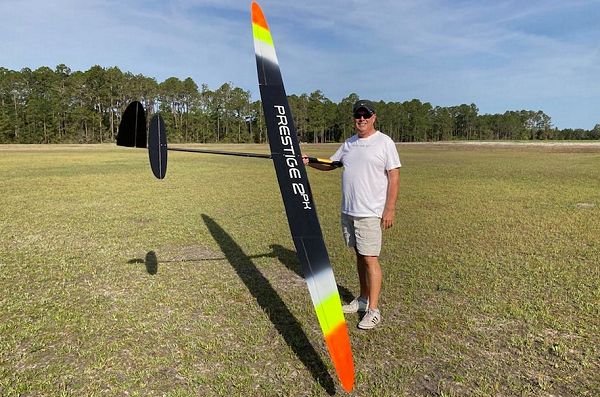 David James Malkin takes first place with Prestige 2PK.
ALES , 13 - 14.3 2021 St Augustine, USA
Congratulations!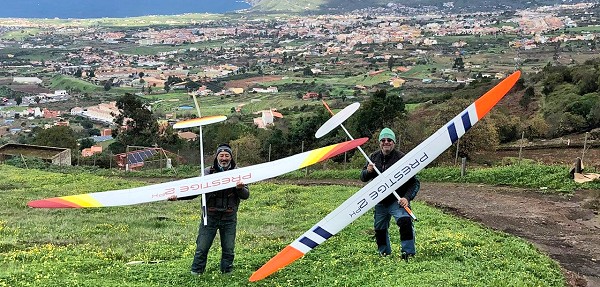 The GPS Light season has started.
The pilots on Tenerife started training with the new PRESTIGE 2PK Light.
Six pilots from Tenerife received 6 new PRESTIGE 2PK Light at the beginning of January ...................................... .....

On the photos are Guillermo Braun and Tom Ecker
More photos HERE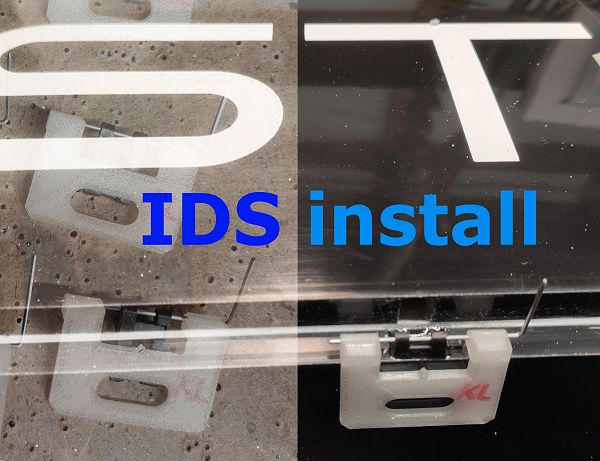 3D printer files for LDS install and stand for fuse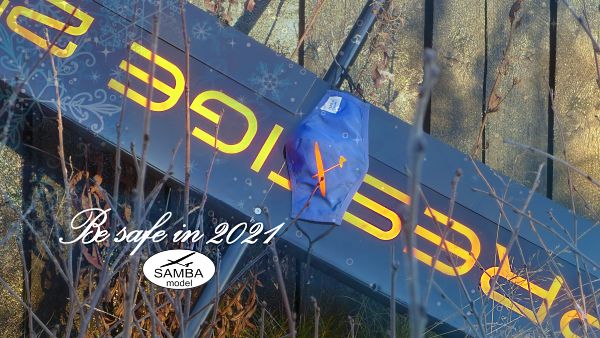 We wish you all a safe year in 2021!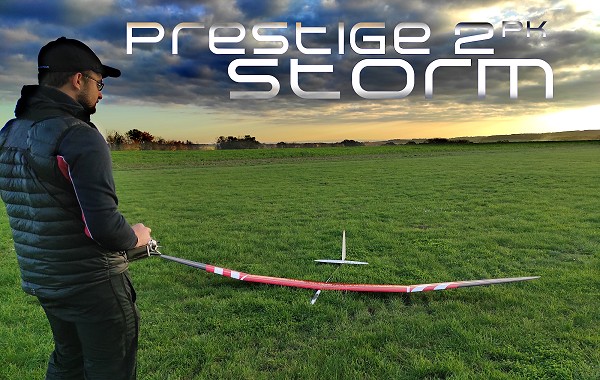 Prestige 2PK STORM is a new version for very windy conditions in the F5J category. We were mainly inspired for this change in several windy competitions last season.
It will be produced instead of the Windy version and will be much stronger than the Normal version. Its RTF weight will be 1650 - 1700 g. The carbon skin layer is reinforced and the beam is strengthened. The beam reaches 80% of the strength of the F3J version.
We used our experience with full rohacell core technology in the development of the F3J version of the Prestige 2PK. This is probably the only model in the F3J category, which is made using full Rohacell core technology.

Available versions
- F5J FAI version , RTF weight 1040g, stiffness spar – 12%
- F5J Light version , RTF weight 1150g – 1250 g, stiffness spar– 12%
- F5J Normal version, RTF weight 1350g – 1480g, stiffness spar – 50%
- F5J STORM version , RTF weight 1650 - 1700g – stiffness spar – 80%
- F3J FAI version, RTF weight 1720 – 1750g, stiffness spar – 100% (FAI weight is 1732,6 g)
- GPS LIGHT version RTF weight 1900g stiffness spar – 100% (FAI weight is 2598 g)
- F3J 130% version, RTF weight 2000g, stiffness spar – 130%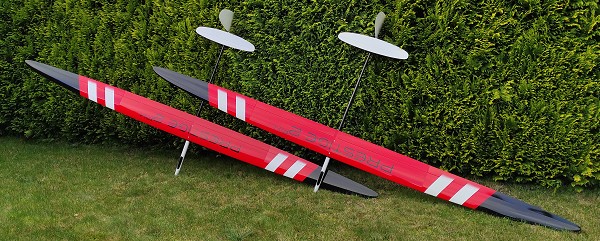 A story from World Champion Jan Kohout is out as book.
Check out modely.hk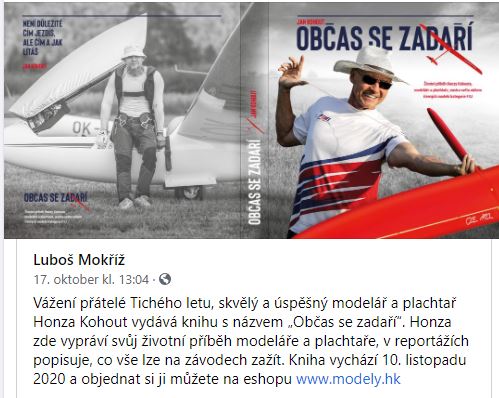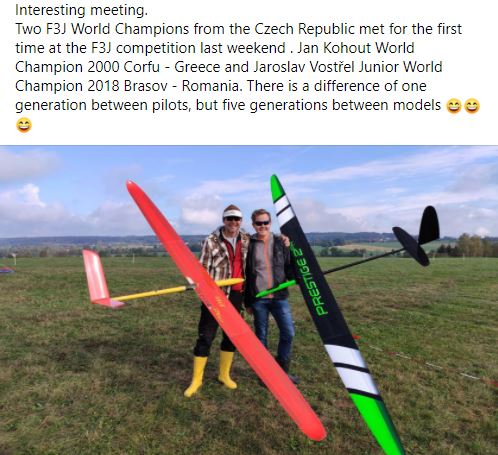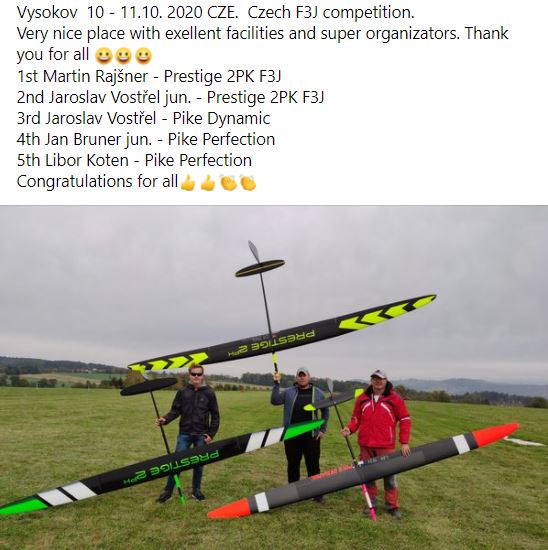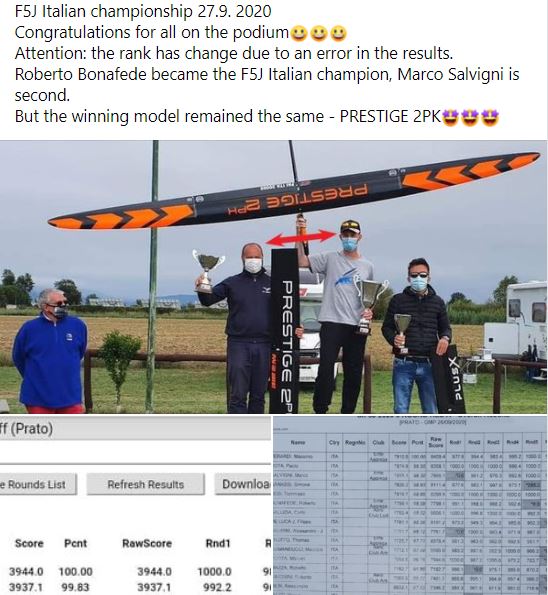 Peter Zweers have been out winching his Prestige 2PK F3J version and Egbert van der Laan filmed him. The result is a rather nice video as we go into the winter season for some of us. F3J version can be ordered now. Weight is spot on FAI F3J limit but depending on colors used. It can also be mounted with servos under the wing so one can just change the nose to electro and fly it as an F5J version. The change takes 30 seconds
Here is the video: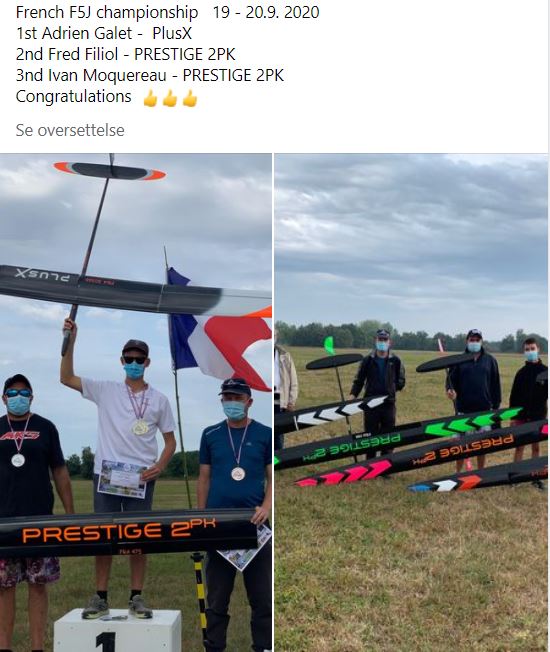 Congratulations Rui Paiva!!: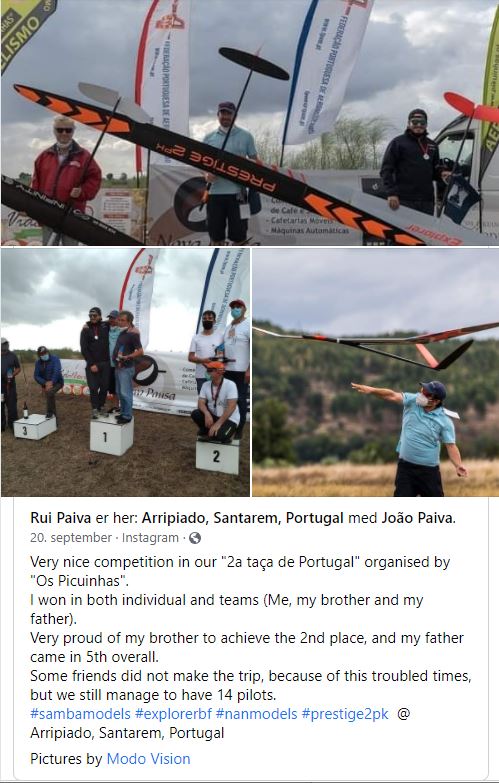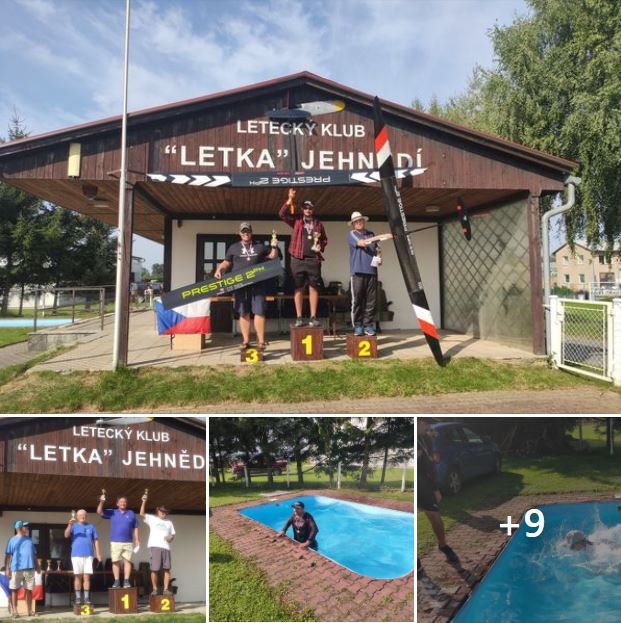 PRESTIGE 2PK FESTIVAL - Czech F5J Championship
Jehnědí 12 - 13.9. 2020 New location for F5J - very nice ultralight airfield Jehnědí. Great end of F5J season. Excellent weather with a lot of sun and weak wind. 66 pilots.
Radek Malčík became the champion of the Czech Republic. His lowest swich-off height in fly off was only 14 m
1st place senior 65+ Alois Hrabáček - PRESTIGE 2PK
1st junior Jaroslav Vostřel - PRESTIGE 2PK
Total results
1st Radek Malčík - PRESTIGE 2PK
2nd Petr Heinrich - PRESTIGE 2PK
3rd Martin Rajšner - PRESTIGE 2PK
4th Jan Vácha - PRESTIGE 2PK
5th Jiří Ducháň - PRESTIGE 2PK
6th Luboš Pospíšil - ENJOY 4
7th Věnek Beran -ENJOY 4
8th Tomáš Winkler - PRESTIGE 2PK
9th Vlastimil Vostřel - PRESTIGE 2PK
10th Vítězslav Štěrba - PRESTIGE 2PK
11th Jaroslav Vostřel - PRESTIGE 2PK
12th Jaroslav Vostřel jun. - PRESTIGE 2PK
13th Stanislav Perkovič - PRESTIGE 2PK
14th Pavel Svoboda - ENJOY 4
15th Zdeněk Malčík - PRESTIGE 2PK
16th Alois Hrabáček - PRESTIGE 2PK
Congratulations for all
Thank you Philip Kolb for the fantastic job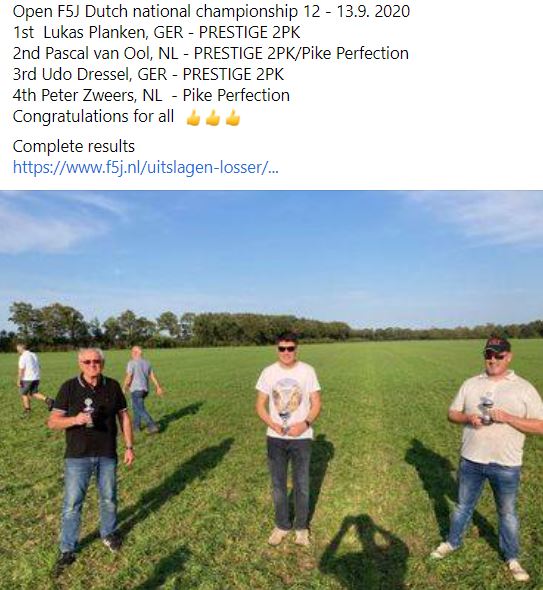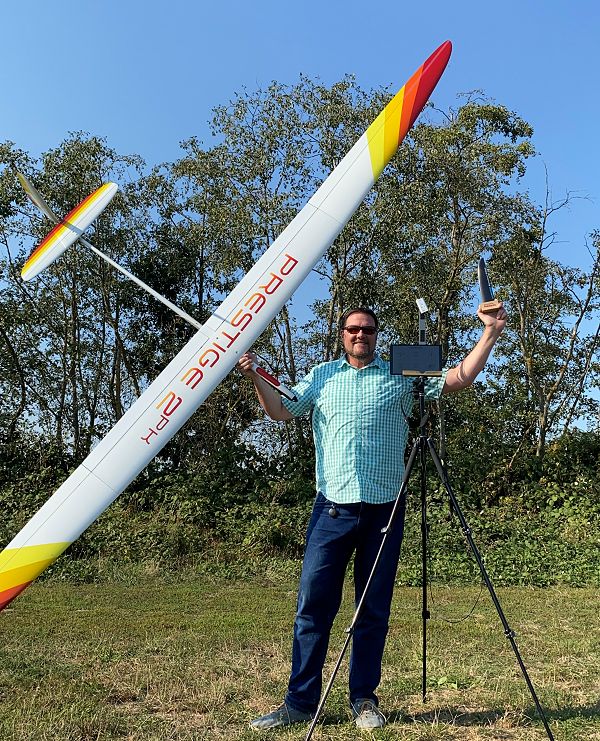 Prestige 2PK is also working excellent for the new Eurotour GPS-Triangle Lightclass and proved it's potential by winning the first Eurotour Competition last weekend in Schäftlarn (Germany)!
Philip flew all flights at 2800g weight in both dead and thermal conditions.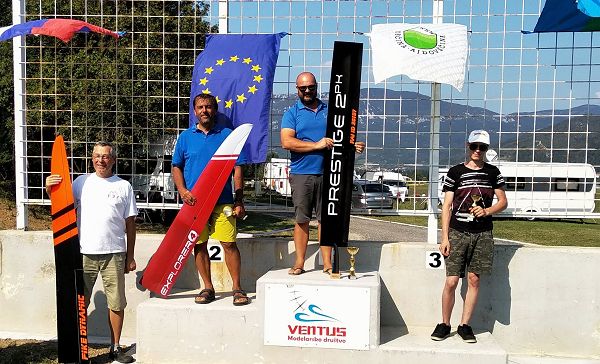 Vipava SLO 12 - 13.9. 2020 F5J Eurotour
1st Roberto Bonafede ITA - PRESTIGE 2PK
2nd Gallizia Giuseppe ITA- Explorer Q
3rd Pliberšek Martin SLO - ?
4th Helmut Röhner GER - Pike DYNAMIC
Congratulations for all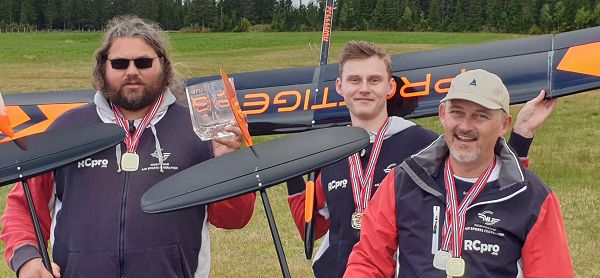 3 x Prestige 2PK F3J at the National Championship F3J in Norway
Stig Magne Olsen won in front of Jo Grini and Fredrik Grini. All flying Prestige 2PK F3J version. They also won the team Gold medal. Congratulations!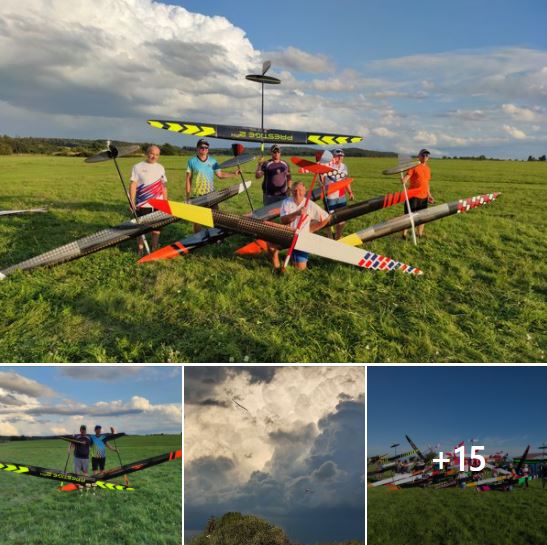 20th World cup - Eurotour F3J - Czech Championship F3J
Podhořany CZE 5.9.2020 - Twenty competitors from CZE, GER and SVK. Difficult conditions with downhill wind. Thanks to the organizers for organizing the competition in Covid time, even though there were a smaller number of competitors
1st Jany Littva SVK - Prestige 2PK
2nd Martin Rajšner CZE - Prestige 2PK
3rd Luboš Pospíšil CZE - Enjoy 3
4th Luboš Němček SVK - Pike Perfection
5th Tomáš Bruner CZE - Pike Perfection
6th Jaroslav Koštan SVK - Pike Perfection
Martin Rajšner also became the Czech F3J champion for 2020
Congratulation for all


Jo Grini won the double in Norway this weekend. He won F5J on saturday with Prestige 2PK and just switched nose and won F3J with the Prestige 2PK sunday. This was National Cup both days in Norway. Others in podium F5J was Otto De Besche (Prestige 2PK) and Anders Bye. On F3J it was Stig Magne Olsen (Dynamic) and Otto De Besche (Perfection). Congratulations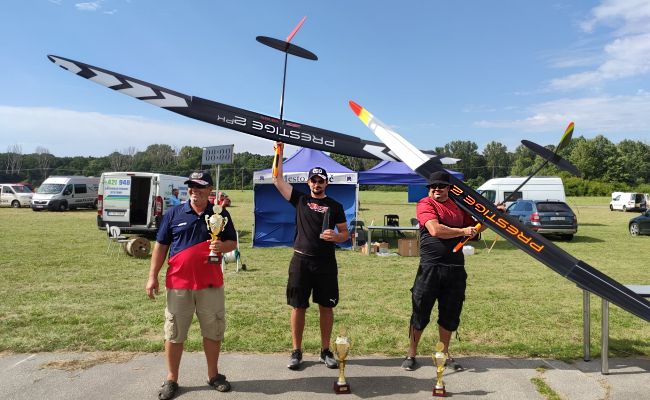 Holíč SVK F5J EUROTOUR 29 - 30.8. 2020
45 competitors from six countries.
Saturday tricky and Sunday windy conditions.
Winner Radek Malčík CZE Prestige 2PK with 3 x 1000 in Fly off
2nd Primož Rižner SLO Exlorer Q
3rd Vlastimil Vostřel CZE Prestige 2PK
4th Jany Littva SVK Pike Perfection
Congratulations for all !!!!
Big congratulation also for
Alois Hrabáček CZE Prestige 2PK for 1st place 60+
Results - Finals - Preliminary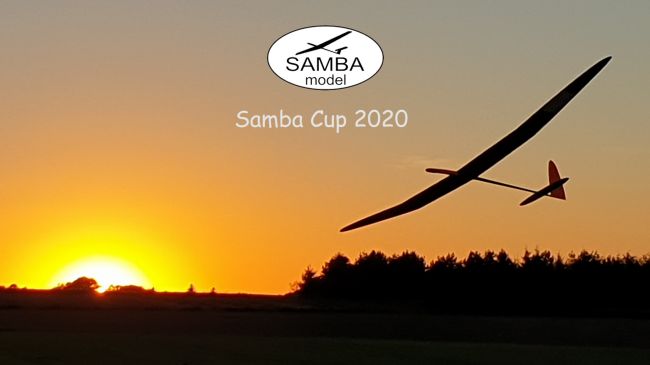 This years Samba Cup is over. Thanks to all our friends that were here and also all that helps us organize. We had 6 preliminary rounds and 3 fly off in changing conditions and the overall winner was Radek Malcik in seniors, Adrian Gallet as best junior (also 2nd in senior) and Peter Feigl as best over 65.
See you again next year. There will be some videos and pictures in the following days off course :-)
Read all about it HERE

we are very pleased with the huge number of registered participants. Shortly after the registration opens, over 140 pilots from 15 countries are registered. Due to the development of Covid 19, some competitors may be prevented from participating in the competition. If such stuation occurs, please notify us samba@f3j.com . You can also order lunch and dinner at samba@f3j.com ( if you did not do in the application)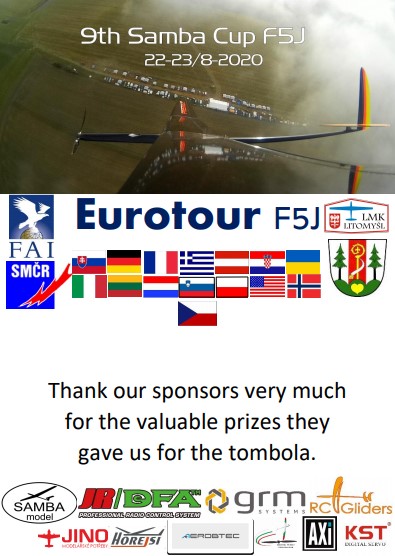 F5J competition in Hořice CZE. 51 competitors from Czech and Poland.
Hot weather, a lot of thermal and also sink.
Jaroslav Vostrel win in a difficult Fly-off
See the pictures and results HERE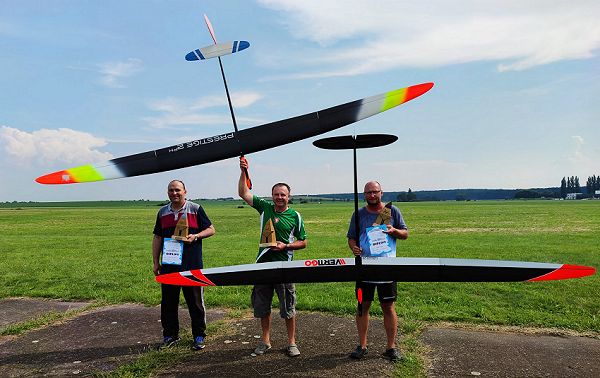 Pike Precision 2 is also available with electro fuse
Check out this new and nice video from Norway flying on the beach
at 0m and on the slope at 1000m the same day.
This is a strong UMS40 version with very light motor but enough for
some fun and safety on the slope
2020.07.27 Pike Precision2 Electro at Loen, Norway from Jo Grini on Vimeo.
Youtube version HERE

Fun F5J competition in Tábor CZE also with friends from Poland, Ukraine and Germany.
36 pilots, 11 preliminary rounds, 3 Fly off and one winner
Only 5 pilots flew full time in Fly off.
1st Radek Malčík Prestige 2PK
2nd Jiří Duchaň Prestige 2PK
3rd Ondřej Rezler Vertigo
4th Vítězslav Štěrba Prestige 2PK
5th Jaroslav Vostřel jun. Prestige 2PK
Congratulations for all
Nice weather and heavy rain 10 min. after price giving ceremony

Nice photos from F5J competition in Tábor by Tomáš Winkler.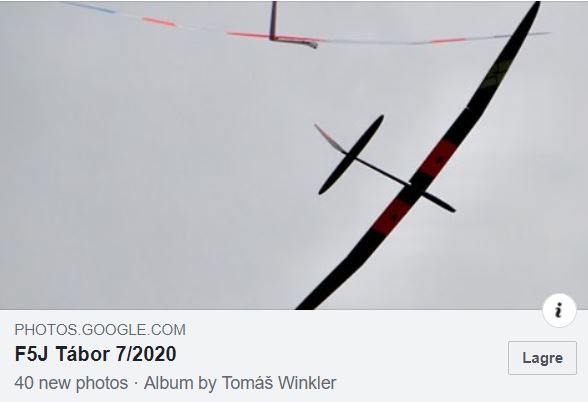 New GM propellers for Prestige 2PK arrived.
The most expected was 10/6 C.L. Prestige 2PK nose 32 mm. Little, nice, powerful and great fit.
It Is suitable for outruners like Dualsky XM3040EG-9 and Axi 2220/12 Long F5J. Both with 4S Lipo. Thank you Georgi Mirov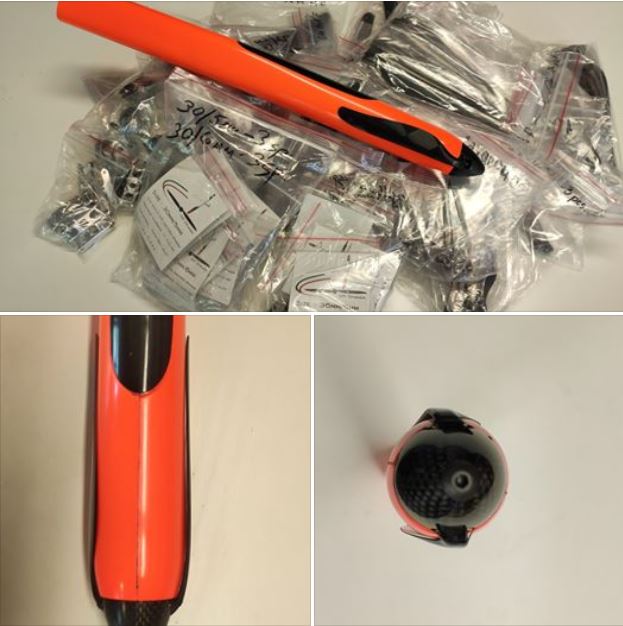 13.6. 2020 Another great F5J competition in new location Dětřichov. Small nice airfield but enough big for F5J competition.The organizer managed to fly 6 rounds without fly of in beautiful weather. Interesting switching heights by winner Radek Malčík in all flights on the result list.
Big thanks to organizer for nice competition with timekeepers. We hope that we can return next year on two days competition.
1st Radek Malčík - Prestige 2PK
2nd Petr Malčík - Panther
3rd Vlastimil Vostřel - Prestige 2PK
4th Jaroslav Vostřel jun. - Prestige 2PK
5th Petr Dušek - Pike Perfection
6fh Vítězslav Štěrba - Prestige 2PK
Congratulations for all,
We looking forward to next weekend for two-day F5J competition in Náchod - Vysokov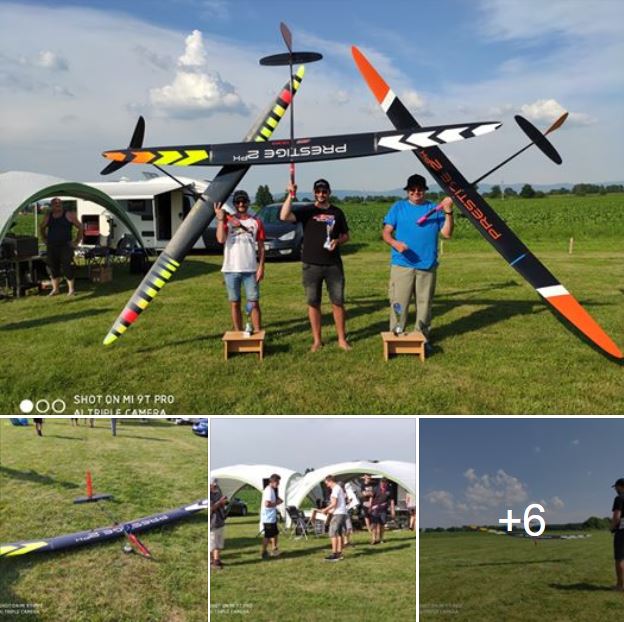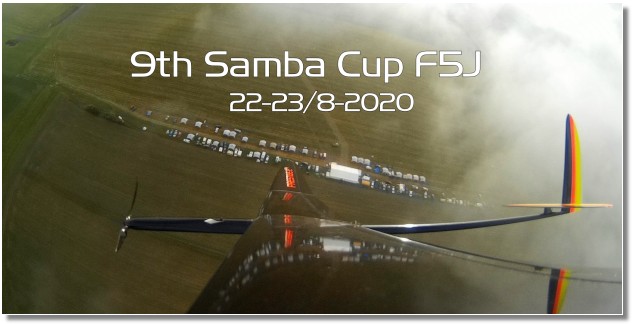 9th Samba Cup F5J - 22-23/8-2020
NEW
hier is direct link for on-line registration: https://stoupak.cz/sorgair/index.php?id=77
On line-registration will be open : 4.7. 2020 at 7:00pm
Mandatory informations for quick registration:
Last name, First name,FAI licence and email
The remaining informations can be added later, preferably within two weeks
The date of the Samba Cup has been postponed to August 22-23.8. 2020.
We hope that by the end of August, the restrictive measures in connection with COVID-19 will have been relaxed to such an extent that it will be possible to hold the competition with certain restrictions. We are looking forward to your participation.
Termín Samba cupu je posunut na 22. - 23.8 2020
Doufáme, že ke konci srpna budou restrikční opatření v souvislosti s COVID-19 již zmírněny natolik, že se soutěž bude možné s určitými omezeními uspořádat. Těšíme se na vaši účast.
9th. Samba cup F5J - NEW Informations
The korona situation in the Czech Republic is developing quite well. It is now possible to organize events with up to 100 people. From May 25, the number of people is likely to increase to 500. All under certain security conditions. But since everything is developing very dynamically and the situation may change or worsen, registration for the Samba cup F5J will not start until the beginning of July. International participants are also welcome if they are allowed to enter the territory of the Czech republic.
It is probable that the entry of foreigners from individual countries will be released gradually according to the current situation in individual countries.
The start and place of registration will be published at the turn of June and July.
Stay healthy, see you in August

9th. Samba cup F5J - NOVÉ informace
Situace s Koronavirem se zatím vyvýjí vcelku dobře. Nyní je možnost pořádat akce s počtem do 100 osob . Od 25.května bude pravděpodobně počet osob zvýšen do 500. Vše za určitých bezpečnostních podmínek. Ale jelikož se vše vyvíjí velmi dynamicky a situace se může změnit, i zhoršit, bude registrace na Samba cup F5J spuštěna až začátkem července. Vítáni jsou i mezinárodní účastníci, pokud jim bude umožněn vstup na území české republiky.
Je pravděpodobné, že vstup cizinců z jednotlivých zemí bude uvolňován postupně dle aktuální situací v jednotlívých zemích.
Začátek a místo registrace bude zveřejněno na přelomu června a července.
Zůstaňte zdraví , uvidíme se v srpnu


Notice for customers: From May 2020 it is possible to pay by PAYPAL. This is especially advantageous for smaller amounts.
The current delivery date for our models is August 2020.

First F5J competition in ´´Corona time´´ Nová Paka,
CZE 16.5. 2020 , 43 competitors.
1st Radek Malčík - Prestige 2PK
See results and pictures HERE

First flights on the 2PK GPS version of Prestige 2PK has been done and it can be ordered
Read first impressions from the designer Philip Kolb HERE
......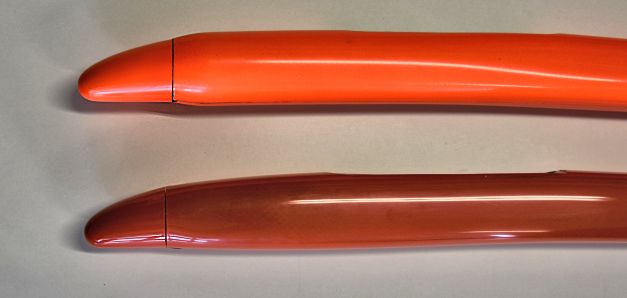 Prestige 2PK nose cone for F3J version. It is made for electro version nose cone but from diameter 30 mm. The new version is nicer and more fluent shape than 32mm nose cone nose.

Prestige 2PK F3J - F5J. Many pilots require the Prestige 2PK F3J also as an electro for stormy conditions F5J. Read more and see bigger pictures HERE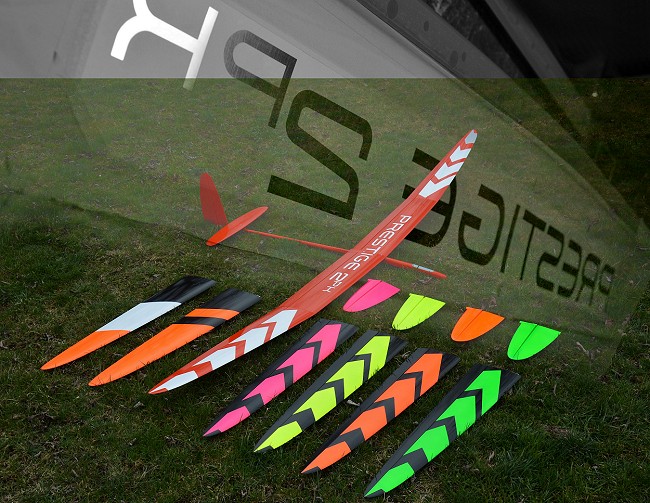 The second set of aluminum molds for Prestige 2PK is ready. This means shorter ordering times.
Keep practice, stay healthy. Samba model TEAM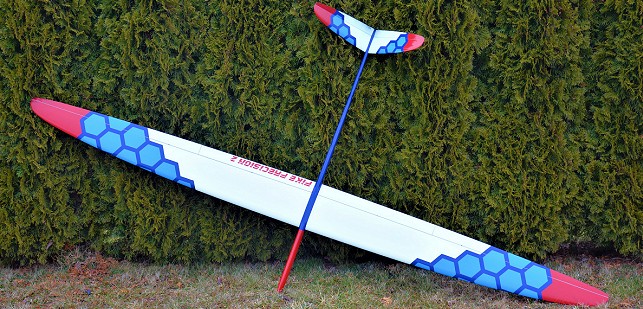 ST 129 HM in Precision 2
We started to produce a new strength version of the
Pike Precision 2 for F3F made of ST 129 HM.
The model in the photo is for Alvaro Silgado at the World Championship F3F 2020.


is released and proven at competitions.
Now a good description and words from the designer Philip Kolb is available.
Read ALL about it HERE
Midsection coming out of mould, Prestige 2PK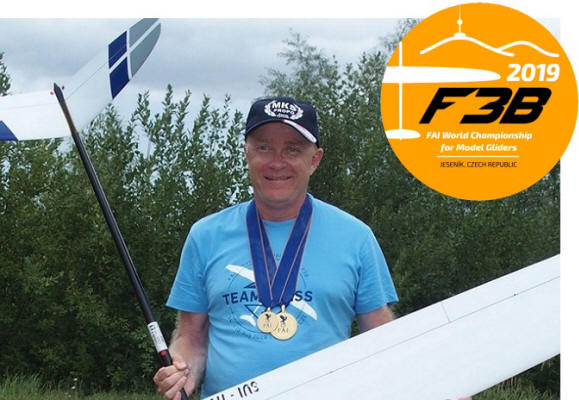 Andreas Bohlen World Champion F3B 2019 - Congratulations!
Read more and see some pictures HERE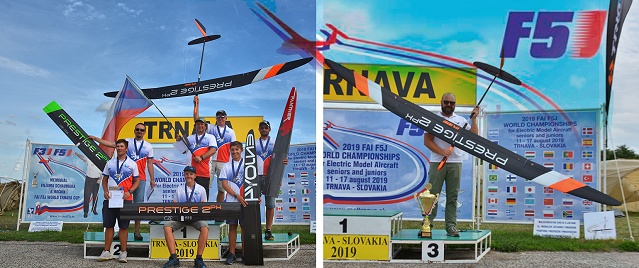 1st World Championship F5J 2019
The very first World Championship F5J is over!
Samba model was well presented with pilots flying our models and we are proud that you choose our models. We managed to prepare a few models for this World Championship from our new model the Prestige 2PK. This model is speciafically designed for F5J and the pilots managed to get good results with very limited flying time before this WC. Best of them was again Roberto Bonafede with his Bronze medal in Seniors. The Czech Team Seniors with Silver medal and the Czech Team Juniors with Bronze medal. Congratulations!!!
The full results can be found HERE
We have also found some pictures of podium winners HERE
More writing later and a new page for the Prestige 2PK is very soon ready
A small video of Prestige 2PK can be found HERE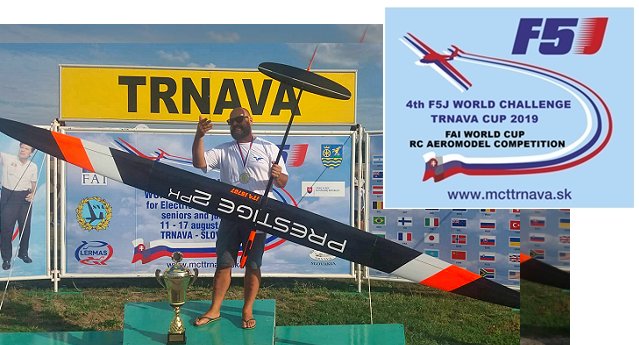 4th F5J WORLD CHALLENGE TRNAVA CUP 2019
The biggest F5J competition in the world with nearly 190 competitors.
Only 3 pilots flew the world chalange with Prestige 2PK (others save their planes for WCH)
and all 3 pilots were in the fly off.

1st Roberto Bonafede ITA, PRESTIGE 2PK
5th Vlastimil Vostřel CZE, PRESTIGE 2PK
7th Andre Ziegler GER, Pike DYNAMIC
8th Paolo Rota ITA, PRESTIGE 2PK
Big Congratulations!!
A few more photos and detailed results final HERE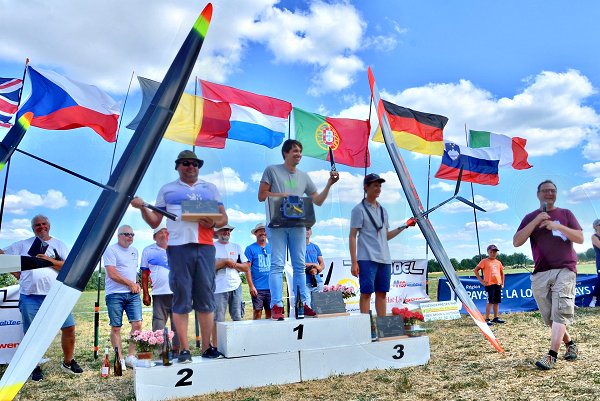 Vlastimil Vostřel won preliminary rounds and got 2nd in the finals of this years F5J Loire Valley, Contest Eurotour . Vlastimil flew his new Prestige 2PK from Samba Model. Only a poor landing made him loose the win!! Congratulations!!!
Photos by Tomas Winkler HERE - Results: Final - Prelim page 1, 2, 3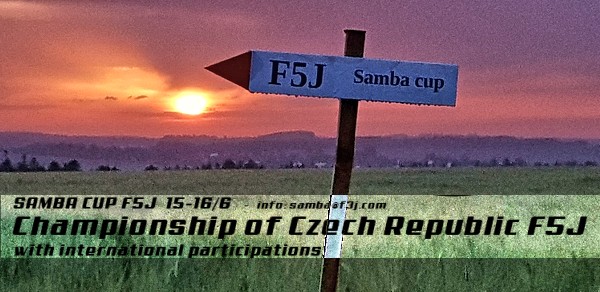 8th Samba Cup is over
Read all about when Jojo (Jo Grini) visited us
and Jan Leiner became Champion
7 nations participated