BIG SUCCESS -Slim fuse Pike Precision!!
Jan Kohout won World cup "22nd Summer Soaring Criterium" Anthsness, BEL with PIKE Precision with new slim fuselage. Jan also flown the fastest time of competition 12,56 and probably also the fastest competition flight in F3B history in Europe.
We can see that the reduced cross section and adjustment of fuselage length has significant influence to improvement of PIKE Precision. It is a big step ahead.
results: http://www.f3b.de/uploads/Anthisnes2014.pdf
results of speed up in Belgium http://f3b-in-dresden.de/wp-content/uploads/2014/07/Speed-cup-2014-b.pdf
overall results of Jan Kohout in F3B category since he started flying with PIKE Precision. Blue results are with new thinner fuselge

2013 - 3th Team in Munich
2014 - 5th place individual Kirchheim
2014 - 3th place individual Nardt
2014 - 6th place individual Jesenik + 1st place tem
2014 - 2nd place individual speed cup Anthisnes 6 flights average speed 13.83
2014 - 1st place individual Belgium Anthisnes, best speed 12.56, best speed contest average 13.22
Read more background under the picture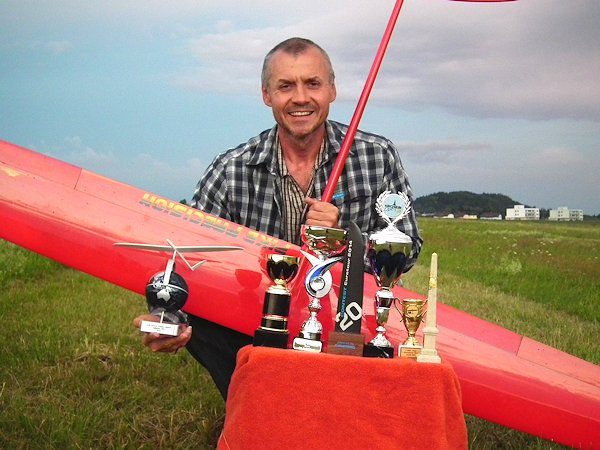 Here is what Philip Kolb says about the new fuse:
"As we are always interested in areas of improvement on our planes we are especially intrigued to save drag - especially on fast flying aircraft like the Pike precision.

Honestly it is very difficult to reduce drag on the wings' sections as the wing needs to operate within a wide variety of lift coefficients. Reducing airfoil drag at low lift coefficients and high Reynolds numbers - so to say at high speed - will almost certainly result in worse performance in other flight phases than speed.
One easy area of improvement though is to reduce the surface of the fuselage. The latest state of the art equipment (batteries, recievers and servos) even became smaller than before and thereby allow to reduce the length and diameter of the fuselage nose. This reduction will mainly result in a reduction of inertia, as the nose can be shortened to some extend.
Higher modulus carbonfibre and spreadtow technology allow for a reduction in diameter, especially on the tailboom, where the airflow is fully turbulent and thereby very draggy compared to all the other parts of the glider.
We tried to implement this considerations in the new fuselage design making it even more slim and sleek than its predecessor. The structural buildup is certainly a challenge, but managable with modern fibre technology. The aerodynamic gains will be noticeable and result in better highspeed - and turning-performance."
Philip Kolb - 2014